Twitter is one of the most popular social media app, which gives power to your words to reach out to a bigger audience. It can be considered as a great alternative marketing tool for bloggers and entrepreneurs. You can reach out to a bigger audiences, consisting of all age group, unlike another apps, Twitter is used by all age groups for professional or promotional reasons.
However, when we first create an account, excited about our business endeavors we tend to follow as many accounts as possible to reach out to a bigger audience. This often results in adding irrelevant data to our feeds. Twitter has created multiple tools solve all your follower problems, which can help you get rid of the useless followers. Twitter has restricted its users to follow only 2000 of his/her followers. Meaning, you can now connect to people with more value, and relation to you and your brand.
It is probably the most popular management tool used by Twitter users. The tool basically lists all the people who are followed by you, but are not following you back. It also comes with an 'unfollow them' option which can be used easily and quickly, making the process 10 times easier.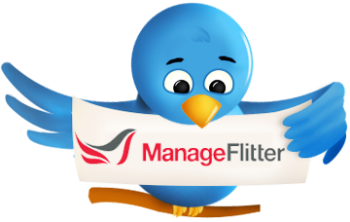 Manage Flitter also allows you to categorize these accounts based on their activity level, talkativeness, bio keywords and lack of user avatar. This helps in isolating all the fake accounts. It also allows you to unfollow the most talkative followers, who often flood your timeline with irrelevant tweets.
Also Read:
Best SEO Plugins For WordPress to Rank Higher
JustUnfollow is another popular Twitter unfollower tool, which comes with a simple, and basic interface. The tool allows you to unfollow maximum 50 users. It helps in keeping your account clean by helping you remove any one, with just a click.
It is a popular iOS and Android app, which offers a 'sort' option for your oldest to newest followers. The app also comes with an upgrade, which increases your daily limit to follow and unfollow more than 50 users, by opting for a paid subscription.
Also Read:
Top 5 Apps for solid access to Social Media
It is one of the best Web based app that allows you to unfollow and block your Twitter followers using a wide ranging variety of search criteria. Use the app to sign in to your twitter account and choose between what you want to sort; followers who are not following you, or those who are following you.
The features of the app help in making the whole process of rectifying the account, easier for its user. The app only allows 100 follow or unfollows for free, later includes charges for using the app.
Also Read:
Quick Tips To Increase Your SEO Ranking in One Month
Socialbro is a powerful Twitter handle tool. It comes with a powerful interface, however it is pretty simple to operate. All you have to do is; open community option, and it will display all your filters, providing filters to categorize amongst people who are not following you and many more.
Apart from serving as follower tool, it also helps in giving you audience insights which helps can help you in keeping up with your follower stats. This can help you in analyzing your twitter competitor's efficiency and progress. You can get a whole record of their evolution, strategy etc. It also helps in providing or adding access limit to teammates and collaborators working on you Twitter account.
Untweeps allows you to unfollow your inactive followers. The app concentrates towards the removal of inactive accounts, which makes it popular. No one wants an inactive user on their profile, as they are not serving any purpose.
The app is pretty basic, you just need to log in through your Twitter account, and enter any number of days, which will list all the accounts who haven't been used in say 25 days. If you are using Twitter as connectivity model, this app is a blessing for you as its completely free, with no per day unfollowing limits.
You can use the apps and tools mentioned above to create a followership which is adding something of value to your timeline, rather than fake accounts and spam posts. Some of these are free, and some will add a minute cost in your wallet. However, they are great ways to revisit and revise your following list. They offer a simplified process, without any complexity of searching a single user every time, you can unfollow anyone, with a single tap of your finger.